The Mines
Edit
This area of the dungeon is comprised of the first five floors. These floors feature a variety of enemies, traps, and treasure. They must all be braved to move on to the next section. The fifth floor of a section is always a safe room, where there will only be a set of chests and a ladder to the next set of levels in the dungeon.

Possible Neutral Characters
| Shopkeeper | Zap Brigade | Humans |
| --- | --- | --- |
| | | |
| Sells wares specific to their type of shop. | Chance to appear and combat minotaurs! | Neutral humans who can be persuaded to follow your leadership. |
Enemies
Unique Variants
Rarity
Skeletons
Funny Bones
(Very Common)
Rats
Algernon
(Very Common)
Spiders
Shelob
(Uncommon, usually found in spider cages)
Ghouls
Coral Grimes
(Uncommon, Can rise from clicked tombstones, be wary of disturbing the dead!)
Trolls
Thumpus The Troll
(Rare on 1st level of mines, more common at lower levels)
Gnomes
None
(Very Rare, usually only found on levels with Gnomish Mine Entrance)
Succubi
Ms. Giggleslut
(Uncommon, Usually Emerges from Fountain after drinking.)
Note: The unique succubus has a very small chance to spawn and will usually spawn with non-unique succubi to accompany her.
Minotaur
None
(Rare, only has a chance to spawn on level 2 or 3 and the Baron will announce this. You will also recieve a purple minotaur icon indicating the minotaur's arrival.)
This level is the most basic you will get. Mostly Skeletons and Rats, with the occasional Spider Pit thrown in. Watch out for Funny Bones and Shelob, they are stronger than the other creatures you will encounter and put up a fight. However, if you kill them they drop very rewarding gear!
Notable Features
Strategy
Find a piece of cheese as soon as possible, it is one of the easiest items to identify and help kickstart the process of leveling that skill
Keep an eye on light levels. Enemies can't see super well in the dark so sneaking or avoiding well-lit places when low on health will help you survive.
Most items here are cursed, identify what you wear before putting it on if you want the option to remove it later.
Most deaths on this level come from falling boulders, listen for the sound of grinding stones and get out of the way!
Spider Pits can be used to farm experience if you shoot them through the bars of the cage with a ranged weapon.
This level is the first one that provides optional access to a secret level. Most of the time level two will have an entrance to the Gnomish Mines on it. If the entrance is present you will receive the message "You hear the sound of pickaxes striking rock.". This level often has a minotaur waiting to destroy the player if they are not quick to exit. There is also a chance that the Zap Brigade will arrive and fight alongside the player.
Notable Features
Entrance to the Gnomish Mines appears here and will need to be opened via lever. Those who seek to enter the mines may find great treasure but only at great risk.
Strategy
The gates to the Gnomish Mines can be bypassed using levitation or a wand of opening on the gates.
Digging is recommended before attempting to enter the Gnomish Mines
Be quick! The Minotaur likes to eat slow adventurers. Have a plan before descending from Level 1, mines or no mines, you don't want to be caught.
The entrance is often difficult to access without levitation or digging.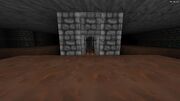 Whether you make your way directly from level two of the mines, or if you brave the Gnomish Mines and emerge victorious, this level is almost identical to the second level. The notable exception here is that level 3 holds the entrance to Minetown instead of the Gnomish Mines. The chat log will display the message "You hear the faint sound of bustling streets.". The gates are the same here as on level 2 and will often be on the edge of the map surrounded by inaccessible walls or pits.
Notable Features
Entrance to Minetown appears here and will need to be opened via lever. Minetown contains shopkeepers, followers, and an absence of monsters to fight. Take a breather and stock up!
Strategy
Most of the same strategy for level 2 applies here.
This level has little new material present. More traps, more skeletons, don't die.
Notable Features
Strategy
Don't die.
Don't starve.
Identify everything you can.
This level is a safe-haven. It comes outfitted with two chests, snarky dialogue from the Baron, and an utter lack of monsters to fight.
Notable Features
There is a portal here to the Underworld hidden behind the second chest room.
Strategy
Bring a source of levitation if you plan to enter the Underworld, otherwise you will be hard pressed to navigate the levels.
Lockpicks may be required for some of these chests.