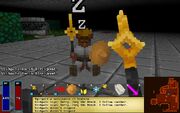 The Magic Spear, otherwise known as "Gungnir, Odin's Spear" is a mythical weapon located in the direct center of the
labyrinth.
Apart from its shiny gold pleasing appearance, the spear comes enchanted if taken from either the maze, or off of Vishpala. It comes with +8 damage, and never fails to hit an enemy.
Ad blocker interference detected!
Wikia is a free-to-use site that makes money from advertising. We have a modified experience for viewers using ad blockers

Wikia is not accessible if you've made further modifications. Remove the custom ad blocker rule(s) and the page will load as expected.