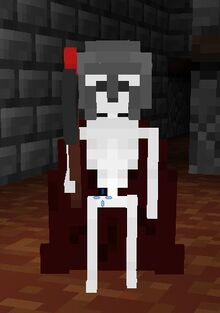 Funny Bones is the name of a special rare skeleton that has a low chance of spawning. He carries Parashu a unique magic axe, he also wears a cloak of protection, and often a helmet as well.
Because Funny Bones spawns in the early stages of the game, it's sometimes difficult to kill him. The best way to deal with him is to use either a sling or a bow, luring him into a loop.
He can be killed rather easily with magic, a spell of cold works best, as it slows him as well.
On very rare occasions, two or more Funny Bones can be found on the same floor.
Ad blocker interference detected!
Wikia is a free-to-use site that makes money from advertising. We have a modified experience for viewers using ad blockers

Wikia is not accessible if you've made further modifications. Remove the custom ad blocker rule(s) and the page will load as expected.